Seamless Integration with Contrail Enterprise Software Suite
Contrail Camera is OneRain's centralized Web-based image storage and management tool that provides secure, 24×7 password-protected access to view and manage images. It easily integrates with our flagship Contrail Enterprise software suite where you can incorporate images into Contrail Dashboards and Map Layers to show sensor data and images side-by-side.
Visually represented sensor data in maps, charts, graphs, widgets and dashboards has become one of the most effective ways for users to assimilate large volumes of data in Contrail Enterprise. Combining this data with access to live cameras provides a very quick understanding of an event as it is occurring and can help users improve their situation awareness.
Contrail Camera provides enhanced integration and management with our StormLink® Camera packaged camera solution.
Advanced Capabilities with Vision License
The full-featured Vision license combines our Contrail Camera framework with AI (Artificial Intelligence) machine learning models to detect objects in each image.
Ask for a Demo or Contact Us for more information!

With the Vision license, users can turn on a machine learning model that has predefined tags for each camera location. The system will then detect objects in each image, including person, cars, trucks, trees, etc. Contrail Enterprise users can create custom Alerts and Notifications based on AI-detected objects. These capabilities are incredibly useful for camera applications where you need to know if a car has driven into a flooded roadway, or a person is walking on a dam, for example. A rectangle overlay on each image indicates what the machine learning model has detected and the confidence level it determines for the particular classification.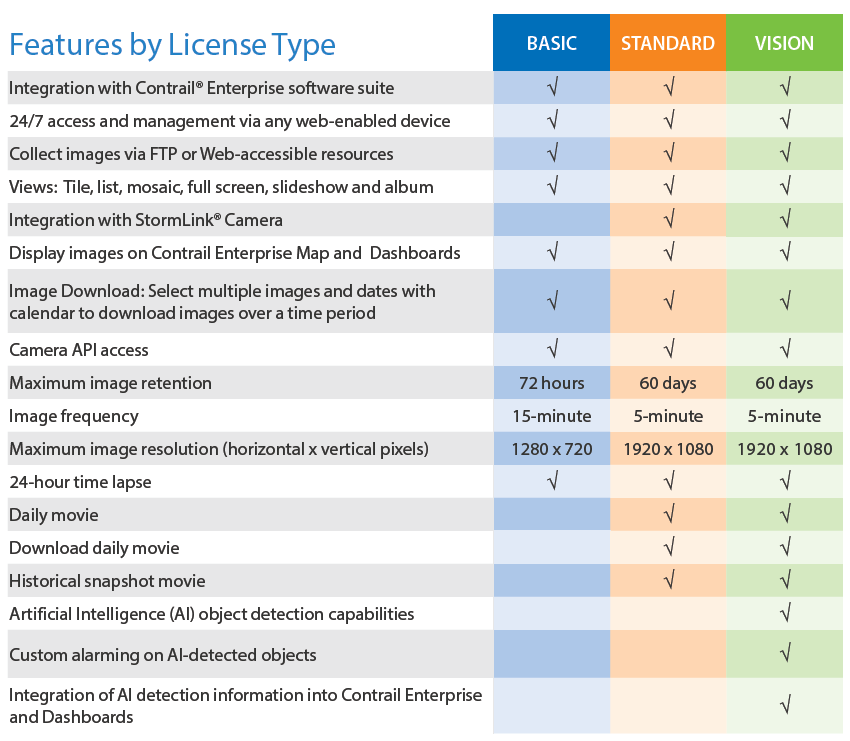 APPLICATIONS
Flood Early Warning
Reservoir and Hydropower operations
High risk/remote Dams Safety Monitoring programs
Road Weather
Flooded Roadways
Post-wildfire burn areas for flood early warning
Other environmental monitoring