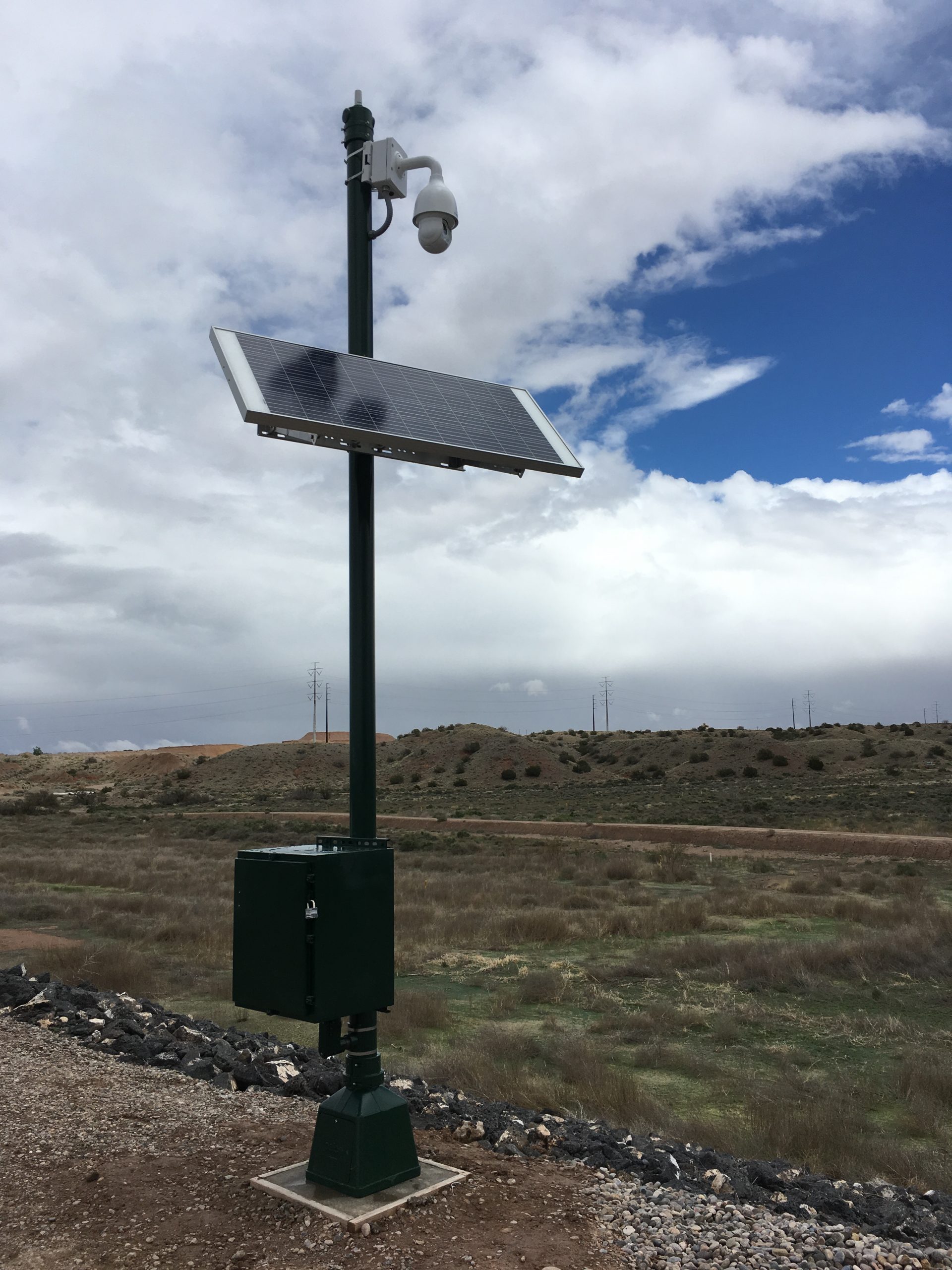 StormLink Camera utilizes a power control system to power down the camera when not in use. The system can be programmed to take images on preset time intervals. The camera features exceptional resolution and 30x zoom capability. Pre-set positions can be programmed for ease of monitoring. The integrated cell modem is always powered and can be contacted via Contrail® Camera software to power on the camera to remotely access its Pan-Tilt-Zoom functionality. Pre-set positions can be programmed for ease of monitoring.
StormLink Camera is a complete packaged station including a 4-inch diameter aluminum pole mounting infrastructure, solar panel, camera and stainless-steel enclosure housing the power control system and cell modem. The only component not included are the two recommended 100 Amp Hour batteries to eliminate the shipping charges. AC power configuration is optional. Other options include the installation of a pressure transducer for measuring water level and a tipping bucket rain gauge for rainfall measurement.
Note: If the site already has existing infrastructure such as a pole and or a gauge house, please contact us to discuss how the StormLink Camera might be adapted to your site.
StormLink Camera Package
Hardware
Camera: Bosch Autodome 5000 Infrared Pan-Tilt-Zoom
Power: 150 Watt Solar Panel
Antenna: Omni or Directional Cellular Antenna
Enclosure: NEMA Stainless-steel with hinged cover – houses Power Control System and cellular modem (24 x 20 x 16 inches)
Mounting Infrastructure: 4-inch diameter, 14 foot aluminum pole
Required (NOT included): Qty 2 x 100 Amp Hour Batteries (must be purchased separately)
Software and Data Services
Contrail® Camera: Standard software license, 12-month subscription, per device, per year
Cellular Data Plan 1 GB Per Month: 12-month Cellular Data Services Plan (pre-paid) covers up to 1 gigabytes (GB) of data usage, per device, per month (avg. 15-min. images)
Additional Options
AC Power Configuration
100 Amp Hour Batteries
Pressure Transducer
Tipping Bucket Rain Gauge