LONGMONT, COLORADO, October 1, 2013 – It's been a busy time here in Colorado as our team has been supporting the recovery efforts from last month's epic flood event.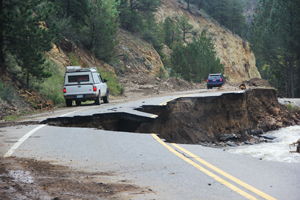 OneRain installed and currently maintains a considerable number of the hydrologic gauges along the Colorado Front Range and provides the software for real-time data collection, monitoring and alerting. Members of our field staff have been seeing first hand, the destruction and devastation that the powerful floodwaters caused, as they venture out to perform maintenance and evaluate the condition of gauges in the network.
Our systems performed well during this historic event. Our software application, Contrail®, provided the continuous real-time data collection, early warning alarming, and notifications and monitoring of the numerous rainfall, stage, and stream flow gauge sites in the region, while several of our personnel were on hand in the midst of the storm assessing the data and providing assistance to coordinators and first responders in the Emergency Operations Center.
The OneRain team is passionate and committed to helping our local agencies in their missions to detect, reduce risks, respond, and minimize losses in potential flood-producing rainfall storm events and our thoughts are with all those impacted by this devastating flood that hit our home state.