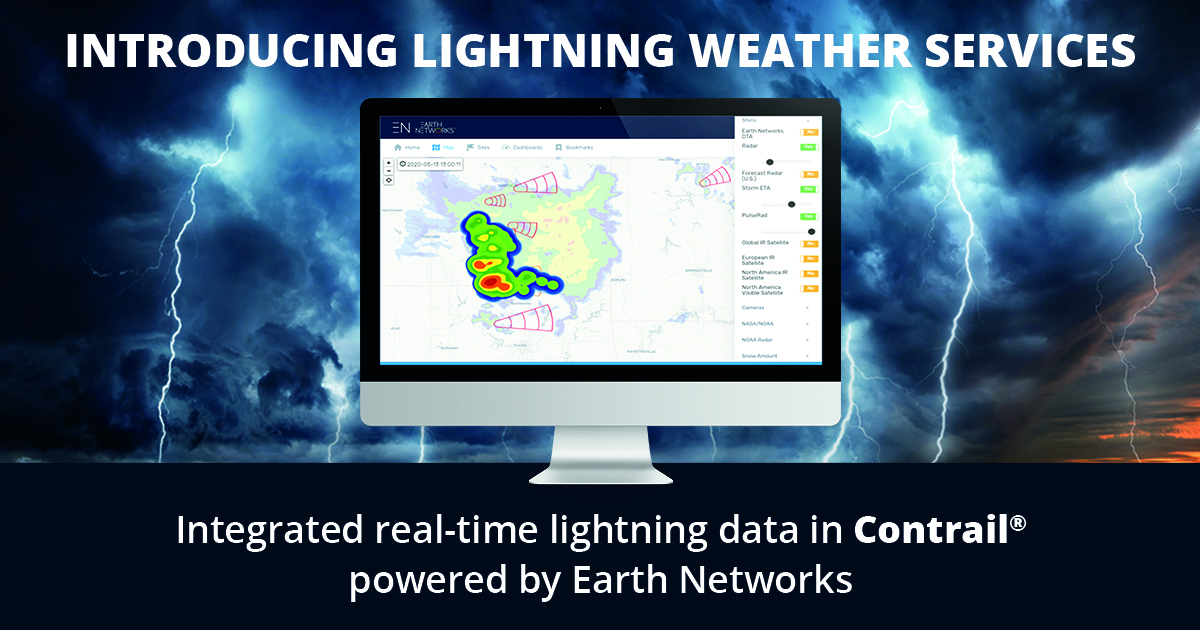 Longmont, CO, January 26, 2021 — In partnership with their sister company, Earth Networks, OneRain Incorporated is pleased to announce the availability of Lightning Weather Services in their flagship environmental monitoring software, Contrail®.
The new add-on functionality in Contrail facilitates storm tracking and the dissemination of custom alerts and automated early warnings for lightning alongside other meteorological and hydrological conditions. The Lightning Weather Services can identify, track, and warn about thunderstorms miles and hours away.
Multi-hazard early warning is possible. Dangerous lightning storms may produce heavy rainfall that triggers flash flooding and rising water levels. With the new integrated Lightning Weather Services in Contrail and the ability to include and visualize sensor data alerts from other environmental monitoring networks, public safety and emergency management officials can quickly make informed decisions and respond proactively to help keep the public aware and out of harm's way.
"It's another step in our mission to help keep people safe and protect property from severe weather, hydrologic flood risks, wildfire potential, and other weather-related hazards," said OneRain's general manager, Mike Zucosky.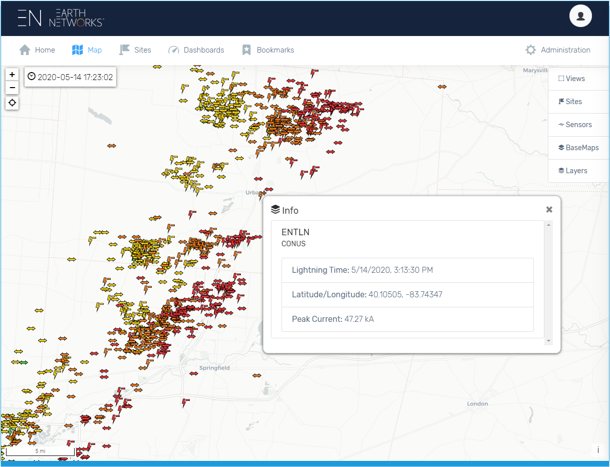 Unified Monitoring Enables Multi-hazard Early Warning
As part of a unified monitoring system, which continuously collects and disseminates real-time rainfall, streamflow, water level, and other hydrometeorological data for alerting and warning, Contrail users benefit from additional map layers and sensor data from Earth Networks Total Lightning Network for making timely and well-informed decisions. Aggregated data from multiple sensor sources broadens real visibility and situational awareness.
Earth Networks proprietary sensor technology used by their global Total Lightning Network, detects both in-cloud and cloud-to-ground strikes and significantly improves severe weather warning times by up to 30 minutes or more. A recently released Earth Networks 2020 U.S. Lightning Report shows a total of 441,211,344 total lightning pulses were detected in the continental U.S. during 2020. According to the report, Texas led all states in the total number of pulses at more than 63.6 million. Then Florida, Oklahoma, and Kansas.
To learn more or request information about Lightning Weather Services in Contrail, contact OneRain Incorporated.
_____________________
OneRain and Earth Networks are part of Advanced Environmental Monitoring – a family of innovators focused on monitoring critical environmental parameters. Learn more at aemonitoring.com
About OneRain Incorporated
Since 1992, OneRain has been providing solutions that optimize water management, heighten regulatory compliance, achieve successful civil works, and save lives. Headquartered in Longmont, Colorado, OneRain's expertise encompasses the best environmental monitoring and water-related software and technologies, from gauging, telemetry, and remote sensing, to visualization, analysis, notification, and control. OneRain specializes in Flood Warning, Dam & Levee Safety, Reservoir Operations, Road Weather, Post-Wildfire, Irrigation and Drought Monitoring, serving local, state, and federal government agencies across the United States and around the world. For more information, visit onerain.com or call 800-758-RAIN (7246).
About Earth Networks
Earth Networks helps organizations mitigate financial, operational and human risk by providing environmental intelligence from the world's largest hyperlocal weather network. Schools, airports, sports teams, utilities and government agencies rely on our early warning solutions to safeguard lives, prepare for weather events and optimize operations. Companies across all industries use our weather data to automate decisions regarding risk management, business continuity, and asset protection. For more information, visit earthnetworks.com or call 877-882-1397.