LONGMONT, COLORADO, September 1, 2015 – Today, OneRain launched several new features in Contrail that include significant enhancements for reporting—the availability of custom dashboards and real-time widgets so users can instantly see the information that's most important to them for hydrometeorological monitoring and assessment.
Contrail is the leading hydrometeorological enterprise software platform that provides real-time information to those responsible for managing water resources, flood forecasting and early warning, monitoring the safety of dams, reservoir operations and more. The ability to see at once, the information and indicators that matter most for assessment and decision-making, is of great importance. With the introduction of the Dashboards and Widgets feature in Contrail, system administrators can now create their own custom dashboard pages so that critical hydrometeorological data points that are most relevant and important to their operations are visually brought into focus.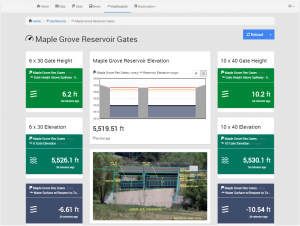 "Our users are increasingly seeking visual and interactive ways to get to the data that matters most to them. Our focus is on continuing to evolve our Contrail platform and introduce innovative features that deliver highly engaging experiences for our users," said Mike Zucosky, Director of Operations at OneRain.
Each custom dashboard page can show related datasets (widgets) grouped together based on the information that users would like to view. There are several dashboard layout options to choose from and widgets placed within the dashboard can be easily arranged (drag and drop) edited, copied and deleted. Administrators can choose to display each dashboard in the administration environments only, or share a dashboard with general users.
Contrail's new dashboard and widgets feature is important when monitoring conditions and indicators that impact operations and decision-making. For example, administrators can create dashboards that help them in their day-to-day decisions, or create a dashboard "on-the-fly" during an extreme storm event to track and monitor specific sites that may be at high risk of flooding.
Also included in today's launch is Contrail's new Remote Module where system administrators of on-premise Contrail Base Stations can check for software, OS and security updates and choose to perform updates on their own schedule.
Update Availability
This software update is available to all OneRain-hosted Contrail Web and Contrail Server users as well as licensed on-premise Contrail Base Station users current with standard maintenance. There's no need for customers to take action to receive the update. This update will be performed during OneRain's standard software maintenance and updates schedule each month, during which Contrail Base Station software updates and operating system patches, if pending, will be deployed by OneRain personnel.
Training
In addition to OneRain's monthly Contrail training sessions, complimentary webinar training sessions are available to OneRain clients after this update. Please contact OneRain to arrange refresher training or if you'd just like to learn more about these recent enhancements. OneRain offers a variety of online webinar training sessions for their software and solutions. These training sessions ensure users keep current and gain the maximum value from OneRain software and products.
About OneRain Incorporated
For more than 20 years, OneRain has been providing private and public sector clients across the United States and around the world with solutions to optimize water management, heighten regulatory compliance, achieve successful civil works, and save lives. OneRain's innovative products and services serve clients in Flood Early Warning and Emergency Management, Dam Safety and Reservoir Operations, Water Resource Management, Post Wild Fire Mitigation, Urban Pluvial Water Management, and Stormwater and Wastewater Management. For more information, visit www.onerain.com or call 1-800-758-RAIN (7246).
Contact Information
Rosemarie O'Connell, Sales & Marketing, OneRain Incorporated Phone: 303-774-2033 | E-mail: information@onerain.com