Fire and Water: Hazards Management after Wildfires
Between shifting weather patterns and human activity, severe wildfires are becoming a more frequent occurrence. While the immediate effects of these fires are well known, it is the after effects, including flooding, that need to be closely managed.
Author: Anu Sood 
One such example is the Las Conchas fire in New Mexico. On June 26, 2011, a tree fell on a power line in Santa Fe National Forest, which ignited the parched vegetation. The forest burned at an astounding rate of one acre per second, and by the time it was over, an estimated 156,000 acres of land had been burned. Among the areas burned were parts of Bandelier National Monument, Santa Clara Pueblo and Cochiti Pueblo. At the time, it was the largest recorded wildfire in New Mexico.
The loss of vegetation from the fire was just one of the catastrophic outcomes. With much of the vegetation removed and the ground becoming hydrophobic (or vitrified), intense downpour in the Jemez Mountains in August 2011 led to flash floods. Although newly implemented flood protection had reduced damage to the recently renovated historic visitor center, many park trails had been severely impacted.
"Ground conditions drastically change following wildfires—greatly increasing the potential for life-threatening flash flooding and mudslides during heavy rain."
The Challenge
Knowing that it could take many years, and possibly decades, for the terrestrial ecosystem to recover, the agency responsible for maintaining the park set about to implement a more effective way to closely monitor the area's water cycle. They were concerned about heavy rains and rising upstream water levels that could once again cause flash floods or landslides, thereby threatening lives and damaging property and park assets such as the visitor center. "To more closely guard the park against post-wildfire hazards, the local agency was looking for a system that would allow them to receive real-time notifications of rainfall and water level changes in various parts of the park," said James Logan, CEO of OneRain.
Many of the systems in the market collected data regularly but are only able to send it at specific times or at specific intervals. This did not meet the crucial requirement to receive level information in real-time since water levels can rise very quickly right before a flood.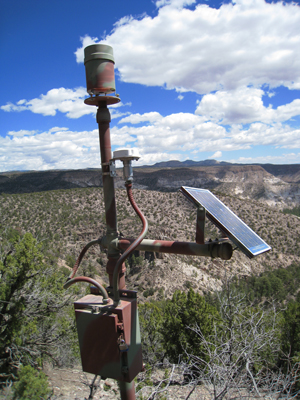 The Solution
OneRain developed and deployed several of their StormLink Monitoring Stations around the Santa Fe National Forest at Bandelier National Monument, Santa Clara Pueblo and the Cochiti Pueblo. Each consisted of either a rainfall gauge or a stream gauge connected to a satellite messaging terminal manufactured by SkyWave Mobile Communications and powered by a 10-watt solar panel.
OneRain's StormLink solution provided many key functions and benefits for effective flood warnings. Since the system relied on satellite communications to relay data, monitoring stations were set up in mountains, canyons and other remote areas where other services are not available. Data from water gauges can be received by the monitoring software within 20 seconds of being collected and sent. This allows authorities to receive immediate notification when water levels rise rapidly during heavy rains and when data are needed in order to quickly assess risk levels.
OneRain's Unique StormLink Protocol Guaranteed Timely Data Delivery for Advanced Warning
To ensure that data were received by the flood monitoring software, OneRain implemented a unique StormLink® handshaking protocol between the satellite messaging terminal and their Contrail® monitoring software that guaranteed data delivery. If acknowledgement of data receipt was not received by the satellite messaging terminal, it would resend information.
Finally, OneRain devised the system so that water and weather data could be received, alarm thresholds defined and automated notifications for triggered alarm events delivered to any number of appropriate personnel to warn of possible flood conditions. Alarm notifications could be sent via both email and SMS text messages.
Intense Rainfall Event Puts the Advance Warning System to the Test
The remote monitoring solution's capability was quickly tested for its effectiveness. On July 25, 2013, rains in the region led to a 17-foot (5.1-meter) high wall of water barreling through a local canyon towards the visitor center. "The real-time water level information allowed the local agencies to mobilize flood protection measures in advance," said Logan "The early warning ensured that no one was hurt and damage to the visitor center and surrounding areas were minimized."

For more information about this project
See OneRain Presentation: "Post Wildfire Flash Flood Warning System: A Case Study of Frijoles Canyon"
About the Author
Original story appeared in WaterWorld Magazine (www.waterworld.com). At the time published, Anu Sood was the Global Channel Marketing Manager at SkyWave Mobile Communications.
About OneRain Incorporated
For more than 20 years, OneRain has been providing private and public sector clients across the United States and around the world with solutions to optimize water management, heighten regulatory compliance, achieve successful civil works, and save lives. OneRain's innovative products and services serve clients in Flood Early Warning and Emergency Management, Dam Safety and Reservoir Operations, Water Resource Management, Post Wild Fire Mitigation, Urban Pluvial Water Management, and Stormwater and Wastewater Management. For more information, visit www.onerain.com or call 1-800-758-RAIN (7246).