LONGMONT, COLORADO, June 11, 2015 – OneRain's Mike Zucosky will be taking a look at flood warning systems of the future in his presentation at the National Hydrologic Warning Council's 2015 Training Conference & Exposition in Indianapolis, Indiana, June 15-18, 2015. OneRain Inc., a leading provider of real-time and historical hydrologic and rainfall-related data solutions, software and services, is a title sponsor and one of the main contributors of the biennial conference.
The growth and increasing robustness of Internet services, especially wireless access, has changed how and where flood early warning systems can be deployed. Cloud-based software services are also changing how data is collected and viewed during critical events. The development of Smart Cities and the rise of Social Media has also begun to open new paths for data collection and dissemination. At the same time, growing concerns over the privacy of data and security related to IT infrastructure will require proactive solutions to these potential problems.
OneRain's presentation will examine these trends and present possible impacts that innovation in other fields may have on the design and implementation of flood warning systems years from now. It will explore the future of sensing, data transmission and collection, data sharing, collaboration and distribution. Today's flood warning paradigms will shift. The future of flood warning systems will be a brave new world.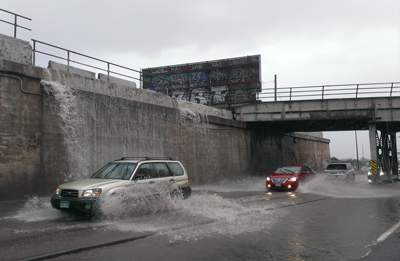 The 2015 National Hydrologic Warning Council (NHWC) biennial conference—the largest conference of its kind in the United States—will be attended by prominent federal and state officials and hydrologic warning professionals. As one of the main sponsors and industry experts, several other members of the OneRain team are presenting throughout the conference on a variety of topics including designing networks for ALERT2™, and the visualization tools that aid in those designs. Stop by OneRain's booth where you can meet with the team and see some of the new features and enhancements recently added to OneRain's Contrail® real-time hydrologic monitoring and warning software application.
For more information about the NHWC and the 2015 NHWC conference, "Advances in Hydrologic Warning – The Race to Save Lives.", visit www.hydrologicwarning.org
About OneRain Incorporated
For more than 20 years, OneRain has been providing private and public sector clients across the United States and around the world with solutions to optimize water management, heighten regulatory compliance, achieve successful civil works, and save lives. OneRain's innovative products and services serve clients in Flood Early Warning and Emergency Management, Dam Safety and Reservoir Operations, Water Resource Management, Post Wild Fire Mitigation, Urban Pluvial Water Management, and Stormwater and Wastewater Management. For more information, visit www.onerain.com or call 1-800-758-RAIN (7246).
Contact Information
Rosemarie O'Connell, Sales & Marketing, OneRain Incorporated
Phone: 303-774-2033 | E-mail: information@onerain.com